About Us
Verde & Co. is a boutique flower & plant shop in the South Lake Union neighborhood of Seattle, Washington. We are located at 400 Fairview Ave N Ste 103 Seattle, WA 98109
Hours:
M-Fr, 10-6
Sat-Sun, CLOSED
Valentines Day Hours:
Tues., 2.13 10-7
Wed., 2.14 10-7
Our personal approach is the heartbeat of our operation. We pride ourselves in creating stunning floral arrangements that fit every occasion. With a focus on using seasonal flowers whenever possible, our arrangements are driven by our affinity for texture, lush blooms, unique color combinations and hand selected vases. We also offer a wide variety of plants and containers for your home or office. Tell us what your looking for and we'll help outfit your space with the appropriate plants! At our shop you will also find a variety of smaller gift items including cards, candles, enamel pins and books. We also offer seasonal floral design classes. You can shop for our current offering in our online shop or by calling us at 206-619-7917.
About the owner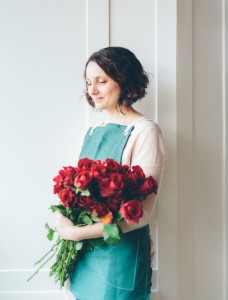 Verde & Co., is owned and operated by Meridith Isaacson. Originally from New York, Meridith moved to Seattle in 2007 and dove head first into her floral design career working for one of Seattle's premier floral studios. Verde & Co., is a labor of love for Meridith as she grew up in a family business that was founded in 1913 by her great-grandfather. Meridith spent her formative years training as a classical ballet dancer. She thinks of designing as a dance. Executing each floral with great technique, infused with a true sense of artistry, she let's the arch of the branch or direction of the bloom dictate where the floral may take her. As an avid collector of unique and vintage vessels, she is always on the hunt for ways to create a personal experience for her clients.
When not at the shop, Meridith enjoys cooking, spending time with her husband and their dog Tina. They often find themselves cuddled up on the couch with a good movie or out and about for a long walk around town.